On Friday night, Savvant Music CFO, Bob Carnahan, and I took advantage of our Austin locale and attended a non-SXSW show performed by lovely Nashville singer/songwriter Tori Sparks. Sparks' bluesy vocals and intensely rhythmic groove paints a sexy and sultry sound that's a joy to hear in any venue. Sparks followed a highly amplified four piece rock band in a very loud, smoky and raucous venue (Touche' on 6th street in Austin – not a venue I'd generally recommend for artists looking for a place to play, by the way), and despite those challenges, this 24 year old songstress rocked the room, drew listeners from tables in the back to the stage front and pulled people in from off the street (yes, during SXSW) to hear her acoustic rock and blues.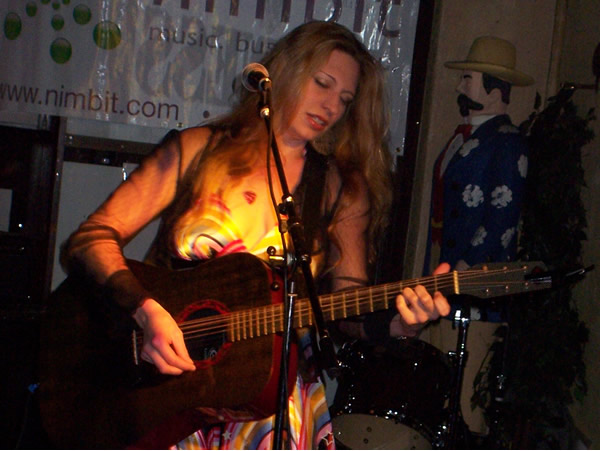 Sparks started off her set with Cold War, the lead track off her latest album, Under This Yellow Sun. This song starts out with a nice guitar hook that immediately grabs you, and follows through with gripping lyrics that bring home a cold but personal story of failing relationships.
According to the buzz in the bar, Chris Kirkpatrick from N'Sync was somewhere in the back of the bar and the staff was entertaining said celebrity by setting off alcohol fueled pyrotechnics (where is the Austin fire department when you need them), which must have been disconcerting for Sparks as she pounded out her set on an acoustic guitar, but if that was the case then she hid it well!
I met Tori Sparks almost four years ago at a Future of Music Policy Summit where we were introduced by songwriter's advocate Fred Cannon (Sr. VP, Government Relations at BMI) of who told me she was going to be a star. Sparks is still young and polishing her style, but it's clear that Cannon knows his stuff. Sparks is a "Do-It-Yourself" artist with her own record label Glass Mountain Records. Search for Sparks on YouTube and you'll see her recording "Under This Yellow Sun" in the studio and spending 9 hours screening tee-shirts, along with videos of interviews and performances. You'll also find Tori Sparks on the cover of the April/May 2008 issue of City at Night Magazine.
That Friday night in Austin, Sparks set covered range of songs from her new CD (Under This Yellow Sun) which is a real gem. Bob Carnahan has already lost his copy of the album to his wife who confiscated it for her commute to work! We also saw Sparks perform at the Colorado Music Summit last year in Denver, Colorado, where she put on an exciting and passionate performance to a house of about 15 people, undaunted by the size of the audience, and engaging every single one.
You can also check out Tori Sparks on MySpace and Facebook. I'd recommend catching her act the next time she's in your town.