Hey there everyone. Like the title says, we've got a new song that we're giving away. Get your download RIGHT HERE!
It's also time for our annual birthday party show at Hodi's Halfnote in Fort Collins, which this year will feature our good friends Chemistry Club and Slow Caves!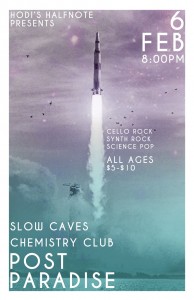 Last but certainly not least, we are pleased to announce that the Post Paradise RPA (Rye Pale Ale) created by our friends at Pateros Creek Brewing is now available for purchase! We will be playing a short acoustic set on January 16th at their tap room (242 N. College Ave. Fort Collins, CO 80524) at 6PM so come on down and (if you're 21+) have a beer with us! If you can't make it, the deliciously smooth, hoppy beverage can also be found at these fine establishments around Northern CO:
Horsetooth Liquors
RJ's Wine & Liquors
Ram Liquor
Supermarket Liquor
College Green (Greeley)
Brix Liquors (Loveland)
3 Rivers (Longmont)
Small Batch Liquors (Denver)
More locations to come!