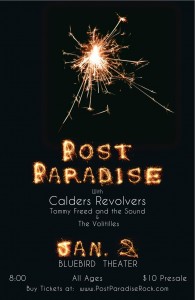 On January 2nd, Post Paradise will be headlining the Bluebird Theater for the FIRST TIME! We want all you lovely people there to party with us and kick off a rocking 2015! We'll be releasing a new single and have some surprises for you…
We are in talks with Pateros Creek to brew a special beer just for this event! We can't say too much, but… it's gonna to be delicious. We are also booking a party bus that can bring fans from Fort Collins/Greeley down to the show and back! We can only fit so many people on the bus (21+), but you can reserve your spot by using the button below to purchase a bus ticket package. ($35 and it includes the ticket to the show, and booze on the bus. Must be 21+) The bus will leave Fort Collins around 7:00pm and will leave Denver after the show is finished at midnight. You can also order presale tickets only from the button below for the low price of $10. They're limited so pick them up before they run out.
**We're sorry but the presale time is over. If you're lucky there are some tickets at the door!!**
See you at the Bluebird!!