What kind of music?
Classic rock and roll, ala Led Zepplin and AC/DC, but with a modern twist (and much younger guys)!
Buy their music:
New Album
JUST RELEASED - Buy Everyday Demons
Available on iTunes:
Come Follow Me - EP
Released Dec 17, 2006
(not available in the USA)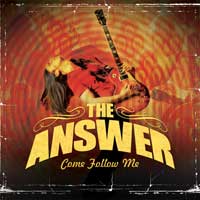 Rise
Released Jun 25, 2006
(not available in the USA)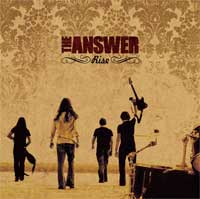 Label/Representation:
The Answer are on the Albert Productions UK, an independent rock label and are represented in the USA by The End Records.
Related Links:
http://www.myspace.com/theanswerrock
http://www.youtube.com/profile?user=AnswerTV
http://www.bebo.com/theanswerrock
http://www.facebook.com/pages/The-Answer/6903941101
http://ilike.com/artist/The+Answer
This is were the band will posts blogs, photos and videos so you can see what they are up to
http://www.royalartistclub.com/the_answer
Where did we find them?
We discovered this group at SXSW 2008 where we had gone to check out Beth Nielsen-Chapman (and awesome world/folk singer-songwriter with a beautiful clear voice). It turns out that Belfast (near which The Answer hails) and Nashville (where Beth lives) are "sister cities," and they were presenting a joint showcase. Read our blog about this SXSW showcase.
After watching their acoustic set at the Sister-Cities gig, we came back later in the week to hear them rock the house at the Kerrang! Showcase at Latitude 30 - see our blog entry for more!
In addition to the above mentioned, we also really loved Foy Vance, who was billed as "Ireland's next Van Morrison."
The Answer
According to their Facebook, The Answer are four lads hailing from Downpatrick, Northern Ireland. According to us here at Savvant Music, they are four lads who rock in the most classic of ways. On stage, front man Cormac Neeson channels a little Robert Plant combined with a healthy helping of Mick Jagger iced with soaring vocals ala AC/DC, for a wild beautiful rock show the like of which hasn't been seen out of a new young band in years!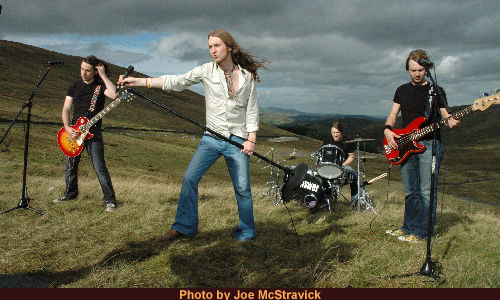 But this band is alot more than a great front man!
Bass player Michael Waters is great on stage, engaging the crowd with an easy going smile an the confident stance of a real pro. He lays down a solid bassline, full of motion that gets everybody moving along with him.
Paul Mahon on guitar puts together some scortching licks and some smooth blues riffs that largely coalescese the amazing sound of this group. Mahon integrates the music and fits in as part of the band. This is so critical to young bands who often play as a group of individuals, rather than as a collective artist. The Answer feel like a band. They're not about an individual or a solo, but, I think, about the music. Which is exactly how it should be!
On drums, James Heatley rocks the place with a rock beat and a groove that a lot of big name bands should envy! It gets back to the fact that this group plays together as a fusion of artists, rather than as four individuals. The whole group is tight and hot and rocks the place. Heatley plays a driving beat, energetic and electric.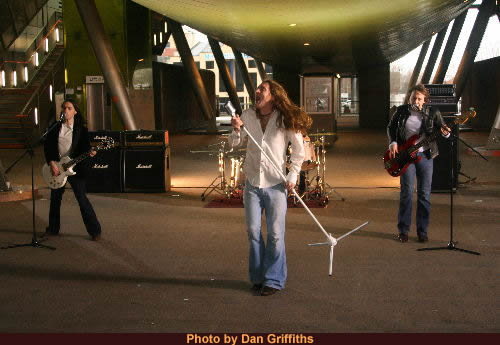 But it's not just about the way these guys play live, even though their live show is phenomenal. These guys write some great songs. One of their newer songs, Comfort Zone
, is all the things we look for in songwriting - a moving melody, lyrics that turn the soul inward, a great hook, and a groove that has everybody dancing. The melodic guitar hook in this song catches you right away, but then the lyrics start to sink in, and the refrain of "Discomfort I wait for you" and "I don't need a lifetime when a moment will do" penetrate your senses and your actually start to not just hear and see the song, but to feel the music in your soul. That's good rock and roll, babe. That's what it's all about.
The song Preachin' had me wondering how a nice boy from Northern Ireland (Neeson) could channel a southern Baptist preacher (while still overflowing with sex appeal). I also loved the beautifully melodic high sustained message "I have met my maker" at the end of Never Too Late. I had chills in the midst of the hot, impassioned and inspired crowd.
The Answer have just released a brand new album, Everyday Demons
. In the US, the band has signed a deal with The End Records which will distribute Everyday Demons. The End Records are also distributing an American version of bands Never Too Late - EP which you can buy on
, from Amazon.com
or at The Savvant Store (thesavvantstore.com)
You can download a free copy of one of their new tracks, "Highwater or Hell" from their website at theanswer.ie. This will also put you on their mailing list, which is a great thing! This is a band you want to know about.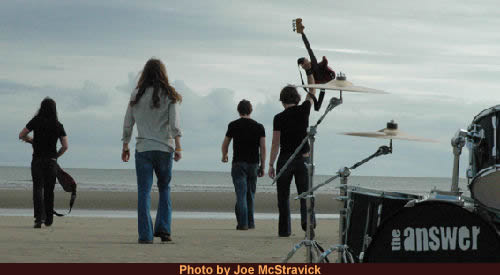 Here at Savvant Music, we try to find awesome artists that we think will be overlooked by the mainstream music industry, and give them some exposure. The Answer are unlikely to be overlooked by anyone in my opinion, but given the facts that they are awesome and that when we first heard them this March 2008 at SXSW they were virtual unknown in the US, we decided they rate their own page from us. In addition you can read about The Answer on our Savvant Music Blogs which includes an interview with Cormac Neeson and a review of the band at SXSW.
The Answer are indeed starting to get notice in the mainstream media! They are currently on tour in support of AC/DC, and they were David Letterman's musical guest on The Late Show this November (2008). And you can watch it right here, as long as it stays on YouTube!
The Answer tour schedule can be found on their iLike page at www.ilike.com/artist/The+Answer. While you're there, be sure to iLike them!
You can also find The Answer on facebook. Become a fan! And while you're there, become of fan of Savvant Music on Facebook at our page!
Here's a new video from The Answer on You Tube.