When my friend Nick Turner, co-owner of the Candlelight Dinner Playhouse, invited my husband and me to a "Wine and Dine by Candlelight," we had no idea what a wonderful evening was in our future!  And, while usually focus on music in my reviews, the food here was sooo wonderful, I had to pass it along.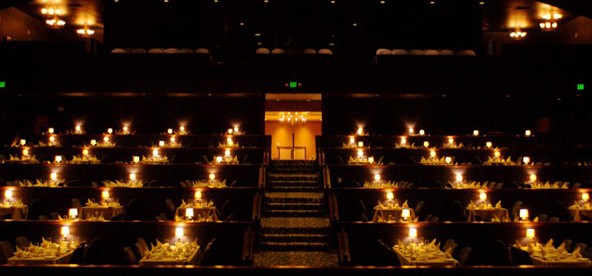 Serenaded by smooth jazz standards by Troy Schuh (piano), Austin Hein (bass) and Eric Thomas (drums), we walked into the large and luxuriously appointed playhouse for a dinner with about 40 people, most of whom we'd never met before entering, but many of whom we would count as friends before the final delicious course was consumed.
We knew it first taste of the Gazpacho (a cool, fresh taste, accented with Ahi Tuna Tartar tossed with Passion Fruit Vinaigrette) that this meal was going to be a delightful experience, and not at all what you might expect from a young chef in your average dinner theatre. Of course, the Candlelight is not an average dinner theatre, so there's your first hint! This first course was complemented by a rather crisp and clean tasting Sauvignon Blanc, which I found to be surprisingly good as I'm not usually a big fan of most white wines.
The second course consisted of Mango Lobster Spring Rolls, and I love Spring Rolls, so I excited to try them, and they didn't disappoint a bit. With a hint of fresh mint and drizzled with Agave Nectar, these were delicious, and we were fortunate to have quickly made friends with the lovely woman across the table who couldn't eat lobster, so my husband happily ate hers too! The Conundrum blend of white wines was a perfect match for these wonderful rolls.
The wine selection for each course was chosen and described by Sommelier Brian Cook, and Chef Josh Thompson shared some insights from his kitchen as well. Thompson is a very talented and surprisingly young man with creative ideas and exceptional execution – each course was delivered at the perfect temperature and freshness with beautiful presentation. As I am personally something of a klutz in the kitchen, I'm amazed at how anyone can so smoothly deliver such a superb meal for so many people!
Meanwhile, the jazz played on quietly in the background (I absolutely love Troy Schuh on the piano), and the conversations around the table got more and more interesting as we all learned more about each other and shared our stories. The Roasted Duck Confit Empanadas (served with a wonderful Broquel Malbec) and the main course of Sausage encrusted New Zealand Lamb Chops (accompanied by a lovely Clos du Bois Cabernet Sauvignon) were almost comfort food, if you can describe a gourmet meal in those terms. The warm, hearty textures of the meats combined with the rich spices and balanced by the brightly flavored sauces relaxed us into a comfort zone that one usually finds only with the oldest of friends. Ok, the wine probably played a role there as well!
While we were sorry to see the evening end, the Chocolate Soup was so divine it cheered us even as we departed from our newly found friends. I look forward to future opportunities to Wine and Dine by Candlelight, and encourage anyone who loves great wine, food, conversation and music to give it a try. It's a wonderful and delicious evening.