Our musical adventures today started a little after three pm at the SXSW British Music Embassy Party at Latidude 30 celebrating the sister cities relationship between Nashville and Belfast. I went there to see Beth Nielsen-Chapman, who is slated to play in Colorado this fall at Women Rock the Rialto, a fund-raiser for the Women's Resource Center that I'm helping to plan.  Nielsen-Chapman (who is from Nashville) was wonderful, as always, with energetic rock and her georgeous vocals.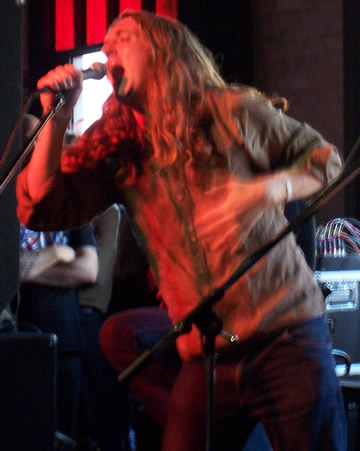 Irishman Foy Vance followed Neilsen-Chapman with his one-man show in which Vance filled the room with a full band's worth of music through the magic of looping. While the looping gimic has been around for a long time, Vance is a master of putting a song together such a way that you don't even notice how it's done. Vance layers harmonies and rhythms during interludes that bring increasingly complex melodies, harmonies and groove. As he builds the background harmony, Vance goes from deep baritone to a beautiful high falsetto climbing another interval after each verse. The result is an ever increasing tension and structure that ends with him down on his knees pleading "please don't go". It's great breakup music. I was so carried away in the emotion of the song that I didn't even notice that while he was down on his knees, he was shutting down the loops (on the floor) to fade the out the song.
Vance showed he could fill the room with music even without the loop machine with his new song asking "How can you break a heart that's already broken?" This song absolutely gave me goosebumps. A beautiful melody, wonderful chords and rhythms had me asking to buy a CD with this song on it after the gig (no such luck – it's a brand new song, so you'll just have to catch him live, but I still got a CD!).
Finally, Belfast rock band The Answer, just blew the place away in a fantastic acoustic guitar set. The incredibly georgeous Cormac Neeson fronts this band with searing, highly emotive vocals with harmonies and a classic rock groove and smoother melodic acoustic riffs from guitarist Paul Mahon and bassist Michael Waters. Drummer James Heatley was on the sidelines for this acoustic gig, but they'll be in full force at their showcase this Friday. I loved Neeson's smooth voice in the earlier songs, then with a rocking gospel sound in "Preachin'". Late in the set they apologize for their lack of experience doing an acoustic set! Huh? The Answer was awesome, and I can't wait to see them again and in full-rock mode. You'll hear a lot from this group in the near future! Be glad!
You can catch these last two bands during SXSW at these showcases:
The Answer plays at Latitude 30 this Friday, March 14 at 12:45am (well, technically it's Saturday, but really it's a Friday night gig…).
Foy Vance plays that same night at Buffalo Billiards at midnight.