Wow! Everything's happening so fast I'm finding it awfully difficult to find time to write about it all! I'll get caught up soon, I promise. Meanwhile, just a quick update on an amazing Monday night.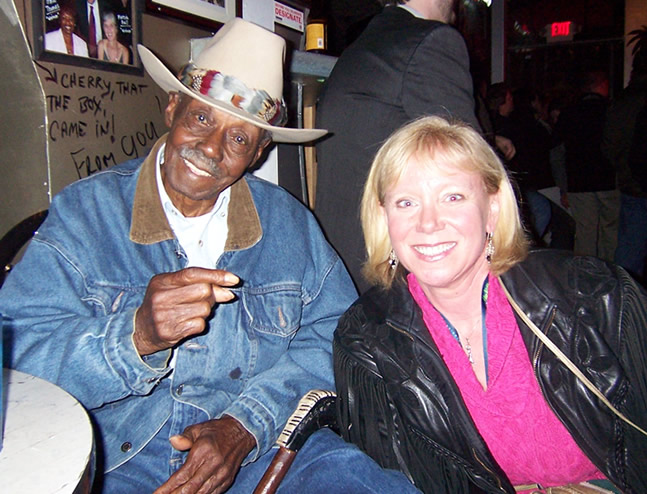 Bob and I were walking down 6th Street here in Austin on our way to a SXSW party, and as we walked past Nuno's we heard some awesome blues guitar coming out the door, and decided we'd stop in after attending some sxsw "official" parties. Best idea we had ALL night, maybe all week! We stopped in a few hours later and the blues coming out the door were so incredibly soulful, rocking and pure we couldn't believe it –then we recognized the pianist, whom we'd seen with Kenny Wayne Shepherd last year – the legendary, grammy award winning Pinetop Perkins!
No wonder the blues were so deep and rich, because this man knows how to lay it down, and does it effortlessly. As he rolled through these amazing blues you don't really realize the man is in his mid-nineties, because he's as young and vibrant in his music as the young guys he's playing with only with that incredibly old soul that only a true blues man can have.
According to local Austin songwriter, Lee Duffy, Pine Top was displaced during Katrina, and has settled down here in Austin where he's been taken in as one of their own by the Austin music community. And I couldn't resist getting my picture taken with the amazing Pinetop Perkins. He's certainly still got his mojo workin'!